While there are probably dozens of Jewish Organizations out there helping people when they are sick in the hospital- (check out Chai Lifeline, Project Sunshine, to name a few) …a new organization kicked off this week by taking care of the one small thing that guarantees to make your next stay in the hospital (chas veshalom) a heck of a lot more entertaining. Behold we give you PROJECT READ – a magazine recycling org providing all the juicy holllywood gossip you can handle – for one purpose: to make that awful hospital stay just a bit more better.
This will be awesome – below is the kickoff letter sent out today by founder Helena Indig – check it out, and then bang out all those Shabbos US weekly's you have lying around your house….enjoy!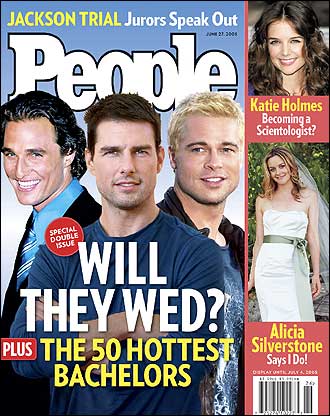 I'm starting a project in one of the local hospitals in memory of my grandmother, Shaindel bas Menachem Mendel a'h (Jean Novack). "Project R.E.A.D." – Recycling Entertaining Articles for Distribution. This project involves collecting magazines that are no longer needed and distributing them to patients in the hospital who will benefit not only from seeing a friendly face, but in addition, will have reading material to take their minds off their pain and suffering.
I spent a great deal of time with my grandmother when she was hospitalized for nine months with a trach and was unable to speak or to function. However, her eyes would light up each time the magazine cart came to her door. I would show her pictures, fill her in on "Hollywood gossip", or just read a simple story that would take her mind off of where she was and what she was going through. I can't even begin to tell you how much of a difference this made for her and I know what a difference it will make for other patients.
If you receive a magazine subscription I ask that you not throw it out once you've read it, but donate it (any kind and type (ie., People, Seventeen, Glamour, Business Week, Forbes, Money, Fortune, Cars and Automobiles, etc.). Please call me 516 239 3075 or email me and I will personally pick them up and deliver them to the hospital.
I have already spoken with the volunteer services director and I will be meeting with her iy'h on Tuesday, February 6th. If you have magazines that I can take to the meeting that would be helpful in getting this project off the ground.
Thanking you in advance for your assistance with this huge mitzvah. Kindly pass this around to your friends, children and their schools so that together we can make a difference.
Tizku l'mitzvos
Helena Indig
516 239 3075
MiddosGirl@yahoo.com