I'm a 27 year old male classical musician who recently moved into Ridgewood from Hartford, CT. I'm not the most religious around, meaning I'm not Shomer Shabbat, but I do keep the house Kosher, with different utensils/plates for meat and dairy foods. I'm looking for someone in their early-late 20's, preferably a non-smoker since I'm not one myself.
The apartment itself has 2 bedrooms on opposite sides of a long corridor, which contains the living room, kitchen (w/ dishwasher), and bathroom. It's been completely refurnished before I started renting it at the start of April so the whole place is clean, albeit some of the walls could do with a different color. The area's a fairly young one, and more importantly about as safe as NYC neighborhoods can get.
The room in question faces the apartment complex's courtyard. It's spacious, has a high ceiling, and has a midsize walk-in closet. A new bed, along with a new mattress, is already included so there's no need to bring your own.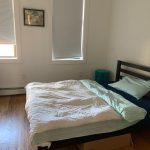 Your portion of the rent would be $900/mo plus electric and internet. Water and heat are included with the rent.
Other amenities:
200mb/s internet (altogether is $53/mo)
4 blocks from the DeKalb subway station (L train)
2 blocks away from the Grover Cleveland Athletic Field
2 blocks away from an "Associated Supermarket"
3 blocks away from a laundromat
Fantastic view of the Manhattan skyline nearby
If you're interested, please feel free to shoot me an email at ox.on.the.roof@protonmail.com, or give me a call/text at (516)884-0715