As always, instead of going through a lame article of the best movies of this year; Bangitout takes you into a movie time-warp, 10 years in the past, giving you the best movies of 1998! (also while you are in the 90s, check our best movie pics of 1997, 1996, 1995, 1994, 1993, 1992! add em to your netflix list!)
Best Dumb Action Film
Lethal Weapon 4
This choice was kind of a toss up between the final installment of an all time great franchise and the birth of an ultimately forgettable one. It all depends on one's definition of the word "Dumb." LW4 gets the nod over Brett Ratner's Rush Hour a.) Because even as it is less fresh, it's better, and b.) Because along with 48 Hours, Lethal Weapon essentially created the modern buddy cop action/comedy. Although Shane Black and Richard Donner's Lethal Weapon series had the, ahem, ingenuity to make the white cop (Mel Gibson's Riggs) the crazy, foul mouthed one, with the black cop (Danny Glover's Murtaugh) as the mature family man, the formula is otherwise token: Two mismatched (typically racially diverse) officers team up to get the bad guys ("if they don't kill each other first!") Of course their styles are different and they have nothing in common, but through friction and calamity, victory and heroism, they become brothers. The reason Lethal Weapon earned classic status is especially apparent watching Lethal Weapon 4. The bond and chemistry that Glover and Gibson developed as these two fully embodied, admittedly aging characters is as real as any relationship ever portrayed on screen. In that thrillingly dark final battle against Jet Li on a crumbling dock, Donner tears down that existential wall and has Murtaugh screaming "I hear you, Riggs!" as Riggs is trapped and doomed beneath the black water. When the two partners somehow silently communicate and Murtaugh dives into the choppy waves, we wholly believe in every moment. All Chris Tucker and Jackie Chan shared together in Rush Hour was the mutual desire for a paycheck. Glover co-starred in this year's Blindness and Saw V. Gibson and Donner will team up again for 2010's Same and George. Last year, Ratner, Tucker, and Chan made a Rush Hour movie.
Best Horror Film
Bride of Chucky
While films like Urban Legend continued the trend set by I Know What You Did Last Summer of placing semi-famous teen actors borrowed from television into harms way, Ronny Yu made his American feature debut by taking something old and putting a wild spin on it. Chucky, the killer doll with Brad Dourif's demonic voice, slashed his way to stardom way back in 1988. After a pair of sequels fizzled out by 1991, the vengeful, cackling, red-headed creep in overalls seemed to be gone for good. Whether it was a cash-strapped studio or a clever writer, someone decided to resurrect Chucky, give him a disfiguring facial scar and a sex scene. Jennifer Tilly, always game for self-flagellation, plays the object of Chucky's desire, first in human and then in plastic form. The hardly scary, camp-bloody, and overwhelmingly entertaining jumpstart to the franchise also gets kudos for giving some work to a pre-Grey's Anatomy (even pre-Roswell!) Katherine Heigl. Tilly and Dourif returned in 2004 to reprise their roles for Don Mancini's Seed of Chucky. According to IMDB, Mancini and Dourif will be relaunching the franchise in 2010 with a remake of the original. Heigl has survived her hot, young chick B-movie phase and become a legit movie star.
Best Movie to watch on a Fast Day
Saving Private Ryan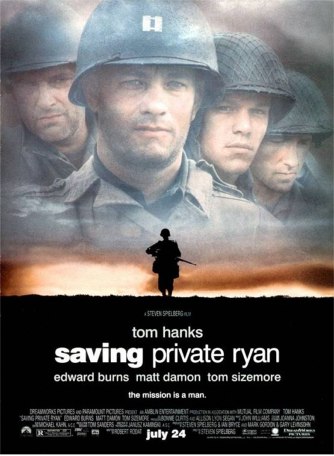 It's long, it's important, it's Spielberg, it may just contain the most jarring depiction of war ever filmed, and who can forget Jewish grunt Stanley Mellish pathetically meeting his end by the cruel tip of a Nazi dagger ("Wait….wait"). Spielberg traded the typically grandly framed, cinematic battle scenes for smaller, more personal, bleached out, hand held shots to bring the brutality of war to its ugliest essence. He also mined for some of the top young talents of the day and gave forum for yet unappreciated Vin Diesel, Jeremy Davies, Giovanni Ribisi, Barry Pepper, and Adam Goldberg to display their considerable and contrasting talents. Tom Hanks as the school teacher who is transcendentally aware of his mission – to bring home Matt Damon, newly minted from his Good Will Hunting success – lends the picture its mortal soul: That war is really just about men and boys sent far away who need to find their way home again. It takes enormous talent to take something as epic and conceptually distant as the Great War, and make the ache resonate in a modern audience. Spielberg earned a well deserved directing Oscar for the film, truly his last perfect work to date (though 2002's Catch Me If You Can comes close, but hardly of the same scope). Most of his upstart actors failed to mature into full blown stars, though Vin Diesel surely came closest with his Riddick and XXX movies in the earlier part of this decade (and Davies has recently joined the cast of Lost). Spielberg has his hand in a host of projects, with his next directorial effort being 2010's Tintin. Matt Damon recently $%&#ed Sarah Silverman and has become the thinking man's action hero, while Tom Hanks is our generations Jimmy Stewart (or so I've been told).
Best Spawn of Boyz N the Hood
Belly
Hip-Hop music video legend Hype Williams began (and ended) his feature film career with this sordid bad boys trying to find good drama. The film featured well known, acclaimed young rappers DMX and Nas as two best friends hustling in the hood and living the violent precarious lifestyle that goes along with it. They each decide to escape the clutches of the ghetto by turning their lives around. One veers toward Islam, while the other takes an interest in his African roots. Results vary. All three amateurs achieve a startling degree of success in portraying an ever combustible situation with nerve and grit. In Nas and DMX one sees effortless (albeit unsophisticated) performances that evoke genuine understanding of the material. Williams's résumé continues to grow, directing some of the most formidable talents in music. This year's collaborations include Kanye West, Mary J. Blige, and Coldplay. DMX, much like his characters on film, can't seem to stay out of trouble, despite vast potential. He went on to make a few more movies including 2001's Exit Wounds with Steven Seagal, but was recently replaced in upcoming projects due to legal woes. He faces charges in dog fighting and drug possession, but continues to make albums (with an ungodly number of canine references). Nas keeps his nose much cleaner than his co-star so his legacy remains in tact, however, he did attempt, somewhat controversially to release an album this year titled "Nigger." The album was eventually sold "Untitled."
Best Tom Cruise Film
Without Limits
The only real distinction Without Limits holds is that it was the first film Tom Cruise chose to produce despite there being no apparent connection between him and the project (oh yeah – and that it was the second movie about tragic runner Steve Prefontaine to be produced in two years). Maybe Cruise just liked running as much as he enjoys jumping. Oprah jibes aside, what it actually denotes is Cruise's burgeoning artistic phase (which lasted about a year) and we must apply all due respect for his venture away from commercialism. For all it's worth, Cruise's Prefontaine movie is consistently deemed the superior of the two, as it traces the Olympian's life from humble beginnings to athletic triumph to an early demise. An unknown Billy Crudup was hand picked by Cruise to tackle the lead role (Jared Leto did the honors in the 1997 version). Legendary screenwriter Robert (Chinatown, The Firm) Towne directed. Crudup made a few more indie gems before breaking through to the big time as a golden god in Cameron Crowe's masterpiece Almost Famous. His next major project is the highly anticipated (legally quagmired) Watchmen movie. Towne is 74 and still working. His last directorial effort was the bomb Ask The Dust with Colin Farrell and Salma Hayek. He is currently attached to a remake of Hitchcock's The 39 Steps. Tom Cruise has gone through many recent changes including becoming a full fledged family man. After a shake-up with his contract studio (Paramount) in 2007, Cruise partnered with United Artists and released the critically panned Lions for Lambs. He had somewhat of a comeback in 2008 with a hysterical turn in Tropic Thunder and a serious one in Valkyrie.
Best Absurd Comedy
There's Something About Mary
Where to begin with this Farrelly Brothers breakthrough extravaganza? Stiller, Diaz, a shredded scrotal sack, and biogenetic hair gel ruled popular culture for months in 1998 as There's Something About Mary extended the definitional boundaries of acceptable in mainstream, blockbuster comedies. Often imitated, never duplicated, Diaz's Mary was as irresistible to the scoundrels around her vying for her affections as she was to audiences. Besides the gross-out gags and surreal narrative, the Farrelly Brothers created a whole new method of being politically incorrect on screen. Their high concept appeared to be: At every turn, do or say something unexpected – the more unexpected the better; from odd casting choices to bashing the disabled to repulsive prosthetics – whatever it takes to shock an audience into laughing. But the reason the copy cats (and even the Farrellys themselves) have never been able to regenerate the power of Mary, is because underneath all the uncouth, unsavory mean-spiritedness lies a vibrant, truly beautiful beating heart, personified by the smile of Cameron Diaz and the puppy dog eyes of Ben Stiller (but really an effervescent Diaz would have been enough).The brothers Farrelly never reached the TSAM heights again. Their 2000 follow-up, Me, Myself, and Irene with Jim Carrey failed to produce the same buzz and devotion. They more recently (somewhat pathetically and transparently) tried to recreate the magic of Mary by reteaming with Stiller in 2007's The Heartbreak Kid. Despite the title, the film lacked Mary's flow, even with Malin Akerman's (not-so-coincidental) Cameronesque smile and demeanor – Akerman is no Cameron Diaz – not by a long shot. Diaz, besides providing a voice for Shrek movies, slummed with Ashton Kutcher in this year's What Happens in Vegas (damn, is it tough to be an aging beauty in Hollywood!) Stiller keeps on rolling: writing, directing, and starring in the summer hit Tropic Thunder. Brett Favre has just thrown an interception.
Best Independent
Hideous Kinky
Kate Winslet showed herself to be a true artist by following the megaton Titanic with a picture about a woman traveling with her two daughters on a journey of self-exploration from London to Marrakesh. Only 23 at the time, her maturity as a person and actress is apparent as she avoids the prime, juicy sell-out roles pushed toward her and decided to display that her talents genuinely eclipsed her exquisite beauty. The film is a delight, mainly because of Winslet's brave performance (the first of many), and partly because of the exotic locations. Don't let the title fool you – this is not a deviant affair. It is a shining film about family and freedom. Kate Winslet, in 2008, starred in The Reader and Revolutionary Road, and will deservedly dominate the slate of nominees this awards season.
Best Date Movie
Can't Hardly Wait
For the girls there are sweet and funny high school romances emerging between opposing (albeit stereotypical) adolescent personalities (the prom queen and the dweeb, the freak and the brain). For the guys there's Jennifer Love Hewitt in a tank top. For those of a certain age there is a worshipful dedication to Guns N' Roses. Ethan Embry, the heir apparent to Andrew McCarthy (bad idea) speaks to the camera as Ferris did before him and guides us on a journey through hopeless crushes, bullies, bitches, nerds, jocks, fairy godmothers played by Jenna Elfman, and every other conceivable high school standard (Elfman excluded). The result is not a great movie by any stretch, but it proves watchable and certainly better than anything else the genre offered over the course of the 90's (She's All That? Puhleaze!) The ladies will eat the entire sappy thing up. Equally cool for the guys is being able to see Charlie (Dick Tracy) Korsmo one more time before he became a lawyer (because the formidable child actor was just not cute anymore), Seth Green before he became annoyingly everywhere, and a pre-Six Feet Under Lauren Ambrose as a "real" teenager (she manages to rise above the entire picture). Not so cool? There's always Love in the tank top. Embry's career never took off, although he still works, generally on TV in serial dramas. Love Hewitt is on the tube as well, though she retains her movie star aura (probably because she is continually attractive yet approachable). In 2008 she faced charges of being overweight and found considerable success as The Ghost Whisperer on CBS.
Best Underrated Drama
Rounders
The talent involved here is staggering, and I know a lot of guys who swear by it, yet Rounders never became what it should have become – a cornerstone in the Matt Damon pantheon and the ignition to director John Dahl's once promising career. In his first lead performance post Good Will Hunting, Damon plays a reformed poker whiz who returns to the dangerous addiction after a buddy (Edward Norton) gets out of prison. The cast includes John Turturro, John Malkovich (way over the top as Russian mobster Teddy KGB), and super-hotties Gretchen Mol and Famke Jansen. With all these impressive ingredients, and a smart script, the film was still met with a yawn at the box office. Really, a mystery all things considered. Although it has achieved minor cult status today, the only person's whose career was really damaged by the film's original stumble was director John Dahl, who at that time was on the maverick filmmaker track. After making critical darling's Red Rock West and The Last Seduction in the early 90's, Dahl was poised to be the next great storyteller in cinema. After 1996's weak Ray Liotta vehicle Unforgettable, Dahl was given all the cards to create a successful hand, but he managed to get beat by the house. No one gambled on him since. Dahl still directs for TV, helming 2008 episodes of Californication and Dexter.
Best Film
Out of Sight
Steven Soderbergh's Out of Sight (based on the Elmore Leonard novel) is not only the best film of 1998, but it is such a complete and flawless work that it stands up against the entire decade's best. George Clooney plays Jack Foley, a smooth criminal and Jennifer Lopez, Karen Sisco, a Federal Marshall intent on taking him down (though conflicted by an attraction) just as each one's star was on the rise, and their afterburn smolders every frame. It is not often you get a whip-smart script, coupled with once-in-a-lifetime romantic (and physical) chemistry, and to top it all off, a riveting, suspenseful thrill-ride. The merging of Soderbergh's crackling direction and mastery of time manipulation with Leonard's edgy characters is pure cinematic destiny. The supporting cast is positively to kill for, with Catherine Keener, Steve Zahn, Don Cheadle, Ving Rhames, Albert Brooks, Dennis Farina, Isiah Washington, Ving Rhames, and Luis Guzman creating memorable, believable personalities, each with their own show stopping moment. My personal favorite – When a pride-swallowing Foley gets offered some shitty job by Albert Brooks after Foley protected Brooks' character when both men were in prison. The vein pulsating on Clooney's head alone as he tears Brooks a new one with a dragon-like fury represents the overwhelming, seething power of this movie. It is impossible to call this one's finish until the last breathtaking moment.Soderbergh directed this year's twelve hour long Ernesto Che Guevara movie and continues to make interesting films. Jennifer Lopez became a megastar double threat under the moniker JLo and reigned over music and movies for the earlier part of the millennium, then got married a few times, and kind of faded from the spotlight. She hasn't made a big movie since 2005's Monster In-Law. George Clooney continues to do no wrong despite a mediocre 2008 (Burn After Reading and Leatherheads).
Worst Film of the Year
Armageddon
Picking on Armageddon is like pushing around a hobbled runt, and if the film weren't such an affront to humankind I would have left it alone. Everything that is wrong with the movie business and America is on proud display in Michael Bay's infinitely insulting Armageddon. The cast made selling out an art form as mindless slow motion preening, cheesy line delivery (of lame as bricks dialogue) , and shamefully overwrought emoting sullied the names of (heretofore unsullied) Liv Tyler, Billy Bob Thornton, Steve Buscemi, Owen Wilson, Michael Clarke Duncan, and many more. Bruce Willis stoically leads the way and has not the fortitude to play the ridiculous affair with a grin and a wink (though he confoundingly does that in every other movie!). Everyone is drinking the Kool-Aid on the Michael Bay express and feeding us some end-of-the-world-hurtling-meteor-slop with an infuriating sincerity. With each goopy sentimental scene and set-up where we are asked to care about a bunch of immature, too stupid and self-centered to be considered brave yahoos sent to plant a nuke inside the meteor, we are dragged deeper and deeper into a degrading catastrophe. The bottom line is Michael Bay and his gung-ho studio bosses think we are stupid. His movies cry out: You are stupid! And the fact that he is one of the most successful filmmakers in Hollywood has proven him right. In short: Affleck sold out for a long while and only recently became an actor again (nominated last year for his touching work in Hollywoodland), Liv Tyler participated in Lord of the Rings and not much else (though this year she co-starred in the second Incredible Hulk movie), Billy Bob Thornton has been the same age for the past ten years and makes good movies that nobody wants to see like The Astronaut Farmer, Owen Wilson rocketed to stardom and made quality movies with Wes Anderson in between asinine (and some decent) comedies where he played the same Zen-man—boy character over and over again, Bruce Willis is still the man (even Armageddon couldn't dent his credibility), and Bay is between Transformers movies.
email jtrick1@aol.com with any comments.
Check best movies of 1997, 1996, 1995, 1994, 1993, 1992 NOW