Dina Plotch grew up in this hood.  Recognize her?   What's that, you dated her ?   You were in her 6th grade class at Heschel?
Wait, which Dina Plotch are we talking about exactly?   Because this girl has many many personalities.   Too many to count actually.
She's an Indian bikini waxer,   a jappy 24 year old,  a Fairway going Israeli Tunisian mother. (see videos below)
Plotch summoned up all these slightly effed-up and completely ridiculous personas on stage in a running one woman show called,Multiple Plotchanalities featured in the United Solo Theatre Festival in 2011 and the  Midtown International Theater Festival in 2012″
Now she's back with a new show.   What's this one about, you ask?  Well that's where things get weird.
Think of the most  personal,  uncomfortable, and terribly hush-hush topic for any Jewish single woman in their 30s.
Brace yourself:   Ms Plotch is now doing a one-woman COMEDIC show on Egg-Freezing…yes Egg Freezing.
How the hell will she pull this off?      What personalities or  impressions can she possibly conjure up to make something so deeply personal and private to many single  Jewish women into something hilariously funny?    The answer:   herself.
Dina Plotch's show is based on her actual experience of freezing her eggs.  Dealing with a subject matter so taboo to even talk about that adding a spin of zany comedy to her own personal experience might just be the thing to blow the roof off this often unspoken advancement for Jewish single women.   Treat Yo Self.
We had a chance to chat with Dina about the upcoming show (Playing March 30th and 31st at 8pm @ People's Improv Theater – 123 E. 24th St tix) see it:
————————————————————————————————————————————————–
Interview with Dina Plotch 
Bangitout:  So you actually froze your eggs?   Really?
Dina Plotch:   Yea, are you kidding? This is the greatest  thing to ever happen to  Jewish single women.  Every single girl on the UWS deals with this lingering pressure that time is running out.   Voila –  with one small needle up your cooch, you basically never have to worry about this again. The Jewish community needs to completely embrace this. If you have the funds/resources, you need to do this.  It is a game changer.
BIO:   How does this play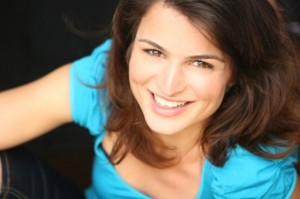 out on stage?
DP:   Well every show I write is basically a therapy session for myself.  It's cheaper than  therapy.  The whole show is cathartic.  It's not just me in a chair talking about some medical procedure, this show has the same over-the-top ridiculous characters voicing all of the sort of things going through my own mind.  All my shows have a resolution at the end,  this is a good one.
BIO:   What was the actual procedure like?
DP:   It's kinda effortless.  You give yourself hormone shots for about a week,  thin needles, to generate tons of eggs inside of you. Fertileville.  Some great bloating.  Then it is a 15 minute procedure to take out the eggs, I was sedated.  Women usually produce 10 eggs,  I produced a college football team. 34 eggs are chilling on ice in NYU right now.   I've actually used that line on dates, "Hey so this date is going really well, I have 34 eggs resting safely a few blocks from here, want to make a quick stop to do some fertilizing?"  Probably a little too upfront I guess.  You can see why I am still single.
BIO:   How do you think the Upper West Side will react to this show?
DP:   I grew up in this area.  I live blocks away from the apartment I grew up in. My family is here.  The UWS has a homeliness like no other, though when I was growing up in the 90s was more like a haven for crack addicts. Now it's a Jewish single mecca with redone  apartments, Whole Foods, high end strollers, and never-ending run-ins.  I actually ran into my elementary school teacher the other morning. Try doing the walk of shame and waiving to your 4th grade teacher- talk about awkward!    Freezing your eggs shouldn't be something women are afraid to talk about, it's an amazing thing. Facebook/ Apple are giving it to their employees, it's on the minds of everyone now. My show is just another step to taking away all the taboo that surrounds this through laughter.
BIO:   Who do you think is funny right now?
DP:   I actually hope all my shows play out like a Kroll Show episode.  I love Nick Kroll's zaniness.  Portandia too.  The characters are all off and weird.  In my shows I write with that zaniness and weirdness in mind. Growing up on the Upper West side made it easy, there are characters literally on every block.
Dina Plotch's "Freezing My Eggs and Last Night's Leftovers" March 30th and 31st at 8pm.
People's Improv Theater – 123 E. 24th St.  $5 General Admission, $1 Students
Tickets online or at the door:  http://thepit-nyc.com/event/you-havent-changed-a-bit-freezing-my-eggs-and-last-nights-leftovers/