"Fruitvale," written and directed by Ryan Coogler is not only the talk of the festival but is by far the most moving film at Sundance this year.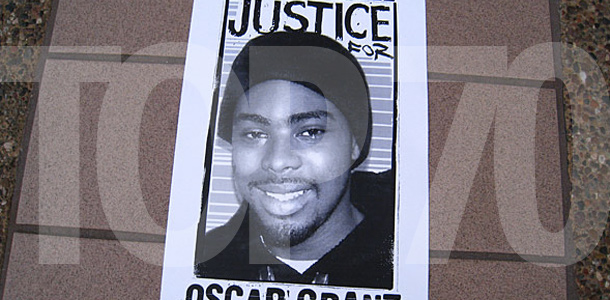 The film is based on the true story of Oscar Grant and his interactions on the last day of 2008. It is possible you have heard of Oscar Grant, he was a San Fransisco Bay area resident who was shot and killed at the "Fruitvale" BART station at 2:30am on January 1st 2009.
The film opens on the real grainy cell phone footage taken on the BART platform that early morning.
This opening is shocking, the entire audience gasped, it's horrific and it's real. But "Fruitvale" isn't about the clear racial profiling by the police or the injustice of our system or even about guns, this film is about Oscar Grant and it is honestly such a beautiful tribute to him that his name now conjures up so many emotions it is hard to get through this review.
Ryan's portrait of Oscar, played the ever-talented and perfectly casted Michael B. Jordan, is so incredibly pure and raw, you cannot help but become transfixed. Oscar is not perfect, he had been in jail and dealt drugs but now that is all behind him, his focus is on his little adorable daughter and his girlfriend whom he wants to marry.
Oscar is getting his life on track and the hope of a new year only highlights the tragic events around the corner. At the Q&A Ryan explained that as a 26 year old from the Bay area he is an old man, most people don't live to see 26 where he is from. It is with this that you understand where the raw quality of Oscar and his family are understood. Apparently when the news broke the story in 2009, Oscar was not fully named, he was just another drug dealer who had a run-in with the cops. It is hard to not discuss race when you talk about "Fruitvale;" a white cop shoots a black unarmed man. But this film goes beyond race, Oscar wasn't a black drug dealer who was shot by a white cop, he was a father, a son, a brother, a friend and a true lover of life. In the Q&A Ryan explained that he wanted to make people think about how they treat the people they love, how they treat strangers, how they treat their enemies and to think about what it means to be a human being. "Fruitvale" is a tragic tale of humanity and it's a story that needed to be told, thank you Ryan Coogler for telling it.